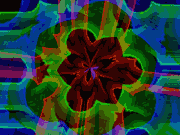 This document is a a hypertext. It is intended to be read in a stream on consciousness fashion. Within text are embedded links which will lead you to related topics I've written about, and to other web sites related to the linked text. There are many short sections of text and image, and a few larger sections of text. You can jump around from section to section at will, to follow any thread of information that interests you, to create your own essay, if you will. You can look at an index of all the section and see the overall structure, but I hope that you will take the time to explore the links. As Jean-Luc Godard says, "there is a beginning, a middle and an end, but not necessarily in that order." Perhaps you will find your own order.

To get to the Site Index, click on the swirly-colored graphic bar at the bottom of each page. The Site Index lists all of the articles in this document. From there you can select any article to view. Return to the site index after reading by also clicking on the bottom bar

This hypertext represents the creative output of a project I've engaged in during my graduate studies in the Integrated Electronic Arts Program at Rensselaer Polytechnic Institute in Troy, NY. The project brought together several different interests of mine in the history as well as current practice of video art, via live performance and tape.

In early 1998, the Experimental Television Center, in Owego, NY, announced a conference called "Making Connections : The Upstate Video History Conference," to be held October 16-18 at Syracuse University, in Syracuse NY. When I saw the brochure, I thought this would make a great project to be involved with. Having known Sherry Miller Hocking from Experimental Television Center for many years, I asked her if I could get involved in the project. And so this web site is born. We talked and I got involved in doing the web research for the initial resource guide which is now linked to the Upstate Video History web site (hosting courtesy of OffLine).

I was also interested in researching specific issues in video art performance, which itself comprises many flavors. The conference presented an excellent opportunity to meet and talk with several performers and groups directly involved in video art performance, so I contacted several of the artists about interviewing them for this project, and those interviews are presented here. The Interview section of this document contains large sections of the interviews I conducted with five artists while at the conference, and in the weeks following.

You'll also find a longer discussion of the issue of video art and performance with comments from interviews in the article "Technology and Performance: From Demonstration to Improvisation." Enjoy.