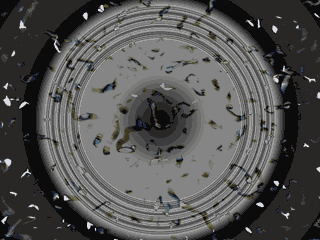 Video Art: Three Definitions
Video art, as a term, has generally been divided into three areas of classification. David Ross broke them up into three camps in his presentation at the Making Connections conference on Friday night (October 16, 1998): those interested in social/personal issues, in documentary, and in image processing. Ira Scheneider and Beryl Korot define it similarly in their introduction to Video Art, An Anthology1 as "three appraoches to the video image: (1) where the artist/perfromer is subject, (2) where the environment is subject, (3) where the abstact synthesized image is subject."
The first definition, of social/personal interest or that of the artist/performer as subject is used substantially by performance artists. While not limited to performers with theatrical background, it does look quite frequently at issues of character and identity. An early example of this kind of work woulf be Vito Acconci's Undertone in which he sits at a table in front of the camera. While he delivers a monoloque, he quietly masturbates under the table.

The second group is defined in terms of interest in the environment. In more traditional media work, the documentary represents this philosophy best. Within the video art field, work of this type is a lttle less structured in terms of tradtional documentary, often drawing its form from elements of nature, such as Paul Ryan's work in the early 1970's with the EarthScore system. Using this system, he would videotape scenes from the natural surroundings based on the natural elements found in the area, such as water.

The image processing group is what I most closely identify with in my own work. Work in this area tends to focus on the image, especially abstract or synthesized images, with an emphasis on such techniquesas real-time processing, feedback, and experimentation with every aspect of the hardware. Nam June Paik is perhaps the best known image processor, often referred to as the "father of video art." His works feature collages of footage, both identifiable and not, layered together, often in real time. The video is often processed though the signal processors he helped to create, such as the Paik/Abe synthesizer, the "wobulator," and the colorizer.
Footnotes: 1 - Video Art, An Anthology, by Ira Schneider and Beryl Korot, New York: Harvest Books, 1976